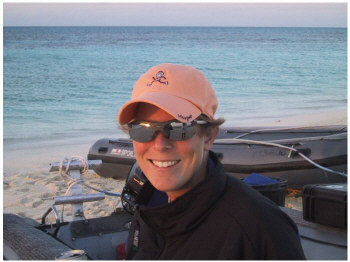 Lieutenant Commander Risa Simon
United States Navy
Education and Qualifications:
A native of Miami, Florida, LCDR Simon earned a Bachelor of Arts Degree with Honors in Modern European Studies from Vanderbilt University in 1994 and a Master of Arts degree in Modern Middle Eastern and North African Studies from the University of Michigan in 1997.  LCDR Simon has conducted study abroad in the native languages of several overseas universities including The American University in Cairo, Egypt (1997); Hebrew University of Jerusalem, Israel (1995); the University of Regensburg, Germany (1993); and the University of London (1992). She speaks German, Arabic, and Hebrew, and is currently studying Persian/Farsi.
LCDR Simon earned her commission from Officer Candidate School in Pensacola, Florida in 1998, following which she reported to Fleet Air Reconnaissance Squadron ONE, Detachment Misawa, Japan where she qualified as a Naval Aviation Observer while providing in-flight support to deployed air crews.  LCDR Simon's subsequent tours of duty include service with Naval Special Warfare Unit THREE in Manama, Bahrain from 2000 – 2003; US Southern Command Headquarters in Miami, FL from 2003 – 2006; and the Joint IED Defeat Organization in Baghdad, Iraq from 2006 – 2007.
LCDR Simon's personal awards include the Bronze Star Medal, the Joint Service Commendation Medal, the Navy and Marine Corps Commendation Medal, the Joint Service Achievement Medal (2), and the Navy and Marine Corps Achievement Medal.
I've used my German in the following ways:
-Communicating with German (and even Polish) coalition forces .
Since 2001, we operate a lot with our European allies.
– Studying Middle Eastern history (for my MA) – you'd be surprised how
many important texts on the Middle East are written in German.
– Studying other languages – my background in German has been
instrumental to studying other languages, especially Persian/Farsi,
which surprisingly has a lot in common with German!
– Traveling through Europe and the world … I toured the Valley of
the Kings in Luxor Egypt with a 6'7″ German guy I met at Karnak
Temple!  I've buddied up with German divers during dive cruises in the
Similan Islands off of Thailand; the Great Barrier Reef; and the Red
Sea!  Not to mention how useful it's been knowing German while
traveling through most of Europe.  I remember this one time helping
some German tourists in Spain communicate with the police … they
told me their story in German, I translated it to English for my
friend, who in turn translated the English into Spanish for the
Police!  How 'bout that for fun!