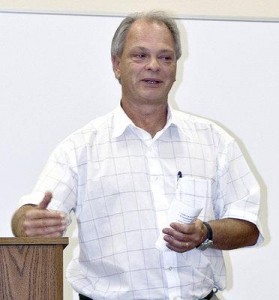 Alan Garner
 
General Manager
SLW Automotive Inc., Sallisaw, Oklahoma
 
 
Education and Qualifications
BSc in Modern languages – University of Salford, UK
ACA – Member of the Institute of Chartered Accountants in England & Wales (equivalent of CPA in US)
System Assessor,  Euopean Foundation for Quality Management – Steinbeis-Transferzentrum Qualitaet und Umwelt, Ulm
 
Describe a typical day in your job
As General Manager of an Oklahoma and Michigan based engineering and manufacturing business owned by a Chinese company with customers and suppliers in the US and Europe, no two days are the same. SLW is leading supplier of pumping systems to the global automotive industry. In layman's terms we design and manufacture engine oil pumps ,transmission system pumps, transfer case pumps, vacuum pumps etc.
In very basic terms in a manufacturing company we do four things.
Understand the market
Design a product
Make the product
Sell the product – hopefully for more than it cost you to design and make it.
As we have a strong focus on developing highly engineered products we must constantly keep abreast of technology developments in the markets we serve. This means not only reading about these developments but also getting out into and visiting these markets – feet on the street. This ongoing research must then be digested in a way that enables us to develop our product  and market strategy. Developing this strategy naturally involves considerable interaction with and directing of our engineering and sales groups to ensure that we are focusing our resources on the most attractive business opportunities. It also involves travelling extensively to get a hands on feel for the markets and our customers' expectations.
Of course it is not enough to develop great sales strategies and products if you can't make them properly. When it comes down to it our job is all about giving the customers what they want when they want it. Consequently much of a typical day is involved working with our materials, production and quality management groups to ensure that everything is running smoothly. These groups have to ensure that materials and components from suppliers are here on time, our production equipment is running and appropriate manpower available and of course that transport has been organized to get the finished product to our customers on time.
A business like ours also requires a solid support structure. Functions like Finance, IT, HR all have to be on the top of their game to enable the core business to be successful. Any General Manager worth his salt makes it his or her job to be actively involved in supporting and directing these functions so this automatically involves me in dealing with banks and financial institutions, handling employee issues,  communicating with and informing the workforce of important events or matters, and the list goes on.
Being owned by a private Chinese company adds the spice to the daily recipe of events. We are very fortunate to have an owner that trusts us to run the company in a professional manner and we are very much left to "do our own thing". Nonetheless, there is a need to maintain continuous and effective communication to ensure our direction is aligned with the Chinese vision. These exchanges are often challenging from a language point of view but we get through them. One thing one learns from travel and studying languages is to show patience and respect people who are trying to communicate in a language that is not their mother tongue.
 
How do you use German?
German became part of my professional tool kit from the day I qualified as a Certified Accountant and moved to the London, UK based International Audit Department of a large US corporation.
My very first assignment was strangely enough in a small town called Markdorf near the Bodensee in southern Germany. I say strangely enough because it is there that I met my wife and  6 years later I would end up working at that same location initially as Finance Controller and subsequently as Plant Manager and  a variety of senior roles that would keep me based there for 20 years. 20 years married to a German and living in a rural area by the Bodensee give you plenty of time to use German.
Before that though and during my time in the International Audit Department I had the opportunity to travel widely around the world working for varying periods in Europe, North and South America,  China, SE Asia, Australia, South Africa. However, because of my language knowledge  the focus of my activities centered around Germany and my assignments took me to all corners of the country as well as to Switzerland and Austria.
Two years ago, an unusual opportunity brought me to the US from Germany. This in itself is not such an unusual move but my opportunity involved me, a British citizen, and my German wife  moving from Germany to work for a Chinese owned company in Sallisaw, Oklahoma. Believe it or not, this move has not resulted in my language knowledge becoming redundant. The markets of the world have become very global these days and being a supplier of engineered products to the automotive industry automatically means developing contacts and working with the German vehicle manufacturers. Consequently visits to Audi, VW, BMW, Opel etc form part of my "job description" and there is no doubt that being able to speak to customers in their language gives discussions and negotiations a completely different angle.
Mastering a second language is without doubt a very useful skill in the modern day, but I believe  the advantages go beyond being able to communicate with German speaking nationals. To learn a language properly you must immerse yourself in the culture and customs of the people and this exercise opens up new perspectives of the world. Things increasingly cease being right or wrong or good or bad but rather one becomes aware that often they are simply different. One learns to adapt to new situations. One learns patience and to respect others.  My father always said that travel is the most valuable education you can have. Forty years after he first said this to me I can certainly agree with this belief and there is no doubt that learning a foreign language  opened  numerous doors to make this broader educational path available to me.
 
What are the advantages and disadvantages of your job?
Probably the biggest disadvantage associated with my job is the fact that I am far away from my family and friends in Europe. When living in Germany it was always easy enough to get back to my family in the UK. Living in Fort Smith, Arkansas makes this somewhat more difficult. That's about it, though, when it comes to the disadvantages.
Obviously there are days at work when you wish you could have stayed at home. You have the occasional issues like a supplier problem, a customer delivery mix up, an employee causing trouble, the computer goes down and so it goes on. These are things you get used to though and with time one learns to handle them – and if you do a reasonable job you minimize the number of such unwanted events.
However, for me the advantages certainly outweigh the disadvantages .I enjoy being confronted with varying challenges be they of a strategic nature or day to day  technical, people related, commercial, or operational  issues.
Another piece of advice I was given when I was young was to surround yourself with intelligent, well travelled and well read people.  As General Manager of a business such as ours you do a lot of interacting with people of all academic backgrounds, holding all sorts of positions in their organizations  and from all walks of life. This is certainly one of the great advantages of my job
I have always enjoyed travel and my professional  career has given me numerous opportunities to see the world and meet people of every possible background. Being paid to do something you enjoy is not a bad deal!
On the other hand, if you're more in to the 9 to 5 working rhythm, where the day is regulated and everything fits into an established routine then being a senior manager in industry is not for you. Similarly if you believe that the boundaries of the world end at the state line then you are probably not going to be a good fit. However, if you have an open mind, want to learn, need challenges and have a desire to enrich your life through exposure to different cultures then the global way in which business is done these days makes it very worthwhile to strive to achieve a senior management position.
 
Do you have any advice for someone who would like to enter your field?
For someone interested in pursuing a career in general management or generally in a leadership position in industry I think one of the most important things that one should realize is that business is now conducted on a global stage. Companies that don't adapt to this environment are falling by the wayside and this trend will continue.
Consequently, successful companies are attaching  increased importance to having leaders that can work effectively in this new environment . So some of the basic advise I would give to anyone starting out on a career path towards senior managements are:
Obtain a recognized business qualification
Travel is a great education – if you get the chance to travel, use it.
Recognize that ideas or things that may seem strange are not necessarily better or worse or right or wrong, but just different
Develop a circle of friends and acquaintances that are intelligent,  well read and well travelled
Remain humble and tolerant
Learn a second or third language
Finally, remember that life should be fun and if you find that this career path isn't right for you, get out while you are young enough and plot a new course.